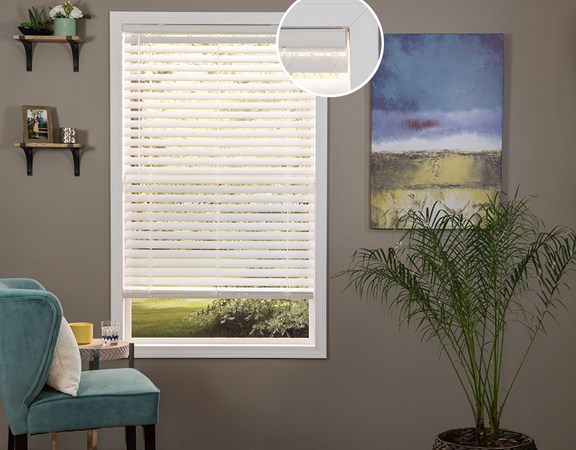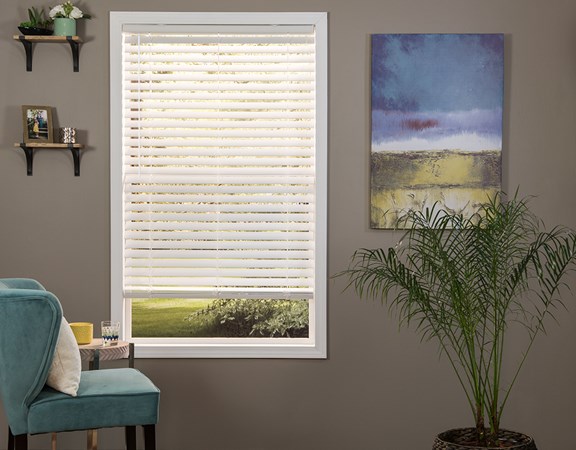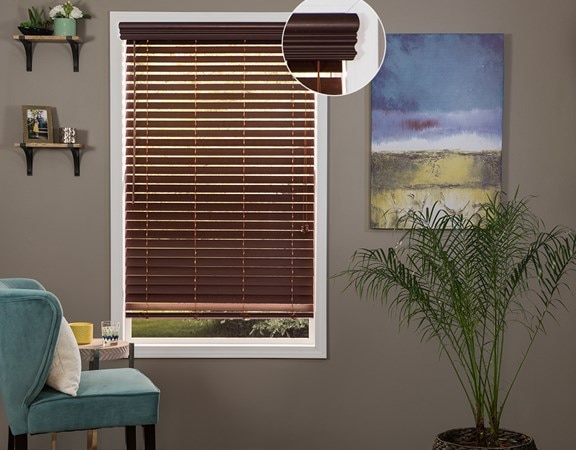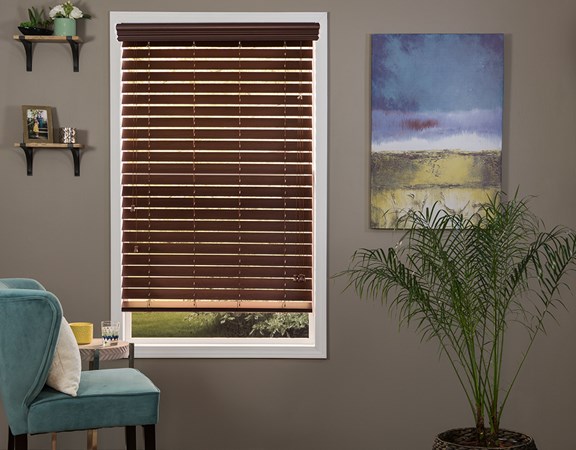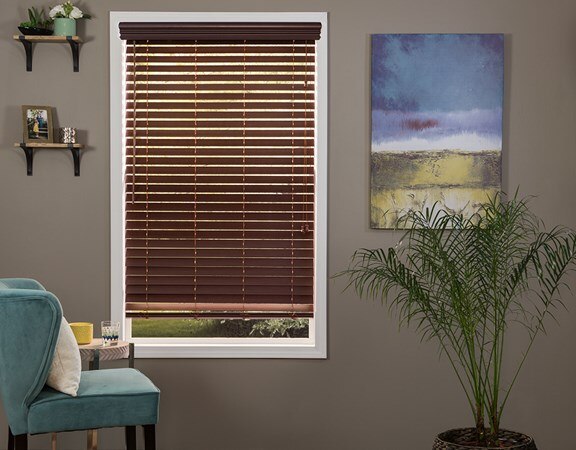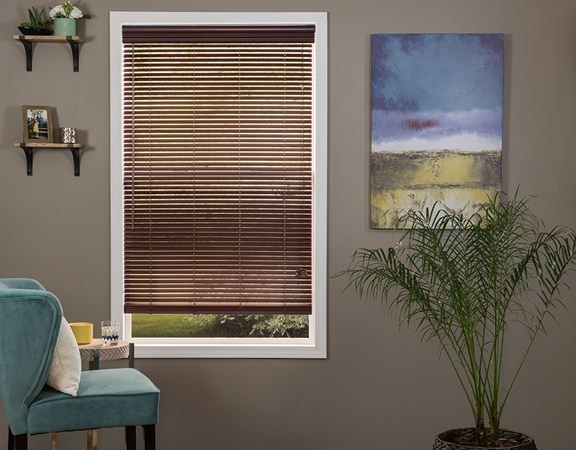 Faux Wood Blinds
Normally made in:
26

business days
Protect your investment with extended warranty
25% OFF WITH CODE "DIYDAYS" ENDS 1/26
Faux Wood Blinds
Moisture Resistant

Hot and steamy? Faux wood is great for bathrooms, kitchens, and garages.

Super Durable

Does your home feel like a circus sometimes? Scratch and moisture-resistant PVC can stand up to almost anything.

Budget Friendly

On a budget? No worries. For the same look, faux wood blinds cost less than real wood blinds.

Easy to Clean

An easy wipe down is all that's needed to make your oh-so-pretty blinds sparkle.
Want the look and beauty of real wood blinds at a better price? Faux wood blinds are calling your name! Not only do faux wood blinds resemble regular wood blinds, but they are moisture resistant, durable, UV protected, and cost much less. Since they can get wet, you won't have to worry about warping, cracking, or splitting in wet or steamy areas like bathrooms, garages, or kitchens. So, go ahead! Hang these beauties in every room in your home; they're tough enough to stand up to just about anything.
Colors: Standard and deluxe color collections available.
Size: Standard colors: 2 inch only. Deluxe colors: 1 inch, 2 inch, 2 ½ inch faux wood slats.
Material: PVC/Vinyl
Operation Options:
Standard collection includes cordless lift and valance free headrail
Standard corded pull (Deluxe colors only)
Wand tilt on the left side
Deluxe collection comes with a decorative valance.
Upgrades: Deluxe color upgrades, cordless options, routeless slat options
Considerations
Faux wood blinds have more vertical ladder cords than other products may have.
The vinyl/PVC material is slightly heavier than wooden blinds.
Although faux wood blinds look like real wood blinds, the slats are smooth to the touch and do not have any wood grain texture unless they are labeled 'textured' or 'sandblasted'.
Child Safety:
This product has accessible cords and is not recommended for windows where children or pets may be present. The cordless lift option is considered safer for kids and pets because there are no exposed cords. Learn more about window treatment options that are safer for kids and pets.
Measure and Install
Deluxe Color Specifications
Minimum Width: 9"
Maximum Width: 96"
Minimum Height: 10"
Maximum Height: 90"
Maximum Width 1" Slat: 66"
Maximum Height 1" Slat: 84"
1/4" to 1/2" Approximate Inside Mount deduction
Mounting Requirements
Standard Colors
Minimum Inside Depth: 1 5/8"
Minimum Fully Recessed Depth: 2 11/16"
Minimum Outside Mounting Surface: 2"
Top and Back Mount Only
1" Deluxe Colors
Minimum Inside Depth: 1"
Minimum Fully Recessed Depth: 2 3/4"
MInimum Outside Mounting Surface: 1"
Universal Mounting Brackets
2" Deluxe Colors
Minimum Inside Depth: 1"
Minimum Fully Recessed Depth: 3 1/2"
Minimum Outside Mounting Surface: 2 1/4"
Universal Mounting Brackets
2 1/2" Deluxe Colors
Minimum Inside Depth: 1"
Minimum Fully Recessed Depth: 3 1/2"
Minimum Outside Mounting Surface: 2 1/4"
Universal Mounting Brackets
Included Options
Cord or Wand Tilt on left
Cord Lift on right
Decorative valance (deluxe colors only)
Available Upgrades
Cordless (Deluxe colors 2''& 2.5'')
Routeless slats (Not recommended for doors)