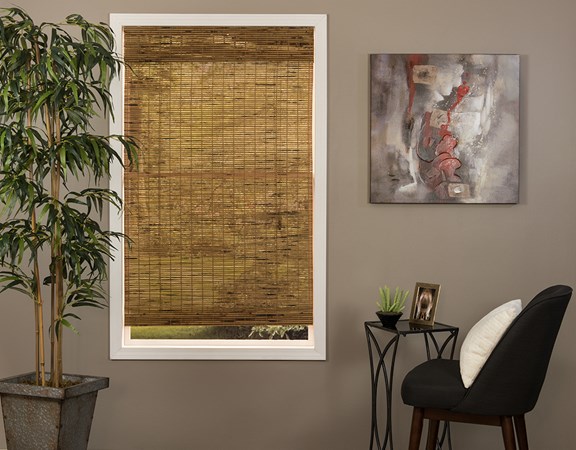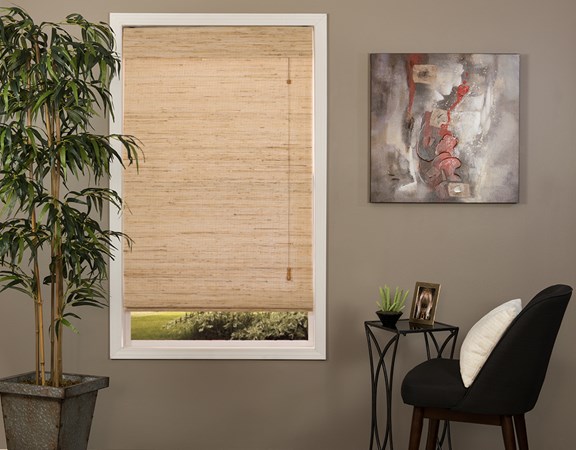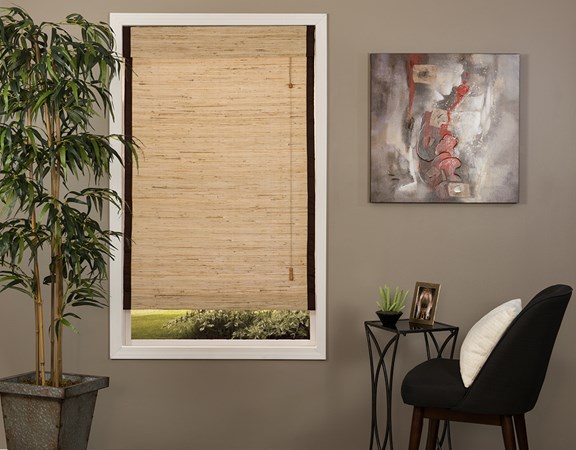 Woven Wood Shades
Normally made in:
32

business days
Protect your investment with extended warranty
25% OFF WITH CODE "DIYDAYS" ENDS 1/26
Woven Wood Shades
Made with Renewable Resources

We're happy to say that woven wood shades are made with renewable resources like bamboo, jute and flax.

Naturally Enchanting

Nothing can mimic the natural beauty, colors, and varying weaves of woven wood shades. They're simply sublime.

Cordless Available

Opening and closing these shades are a piece of cake! No fork or frosting needed.

Privacy & Light

Woven wood shades won't leave you exposed! Choose from several liner options and we'll make these just for you.
One-of-a-kind design doesn't get better than woven wood shades, also known as bamboo shades. Whether your style is traditional, modern, or a funky mix of styles, woven wood shades can add the perfect finishing touch to a house. They're universal enough to be casual and unique enough to be used in more fanciful settings as well. These shades are similar to roman shades but made with unique and renewable bamboo, jute, flax, and wood. You'll be sure to get plenty of oooohs and awwwws with these natural beauties.
Colors: Natural products vary in color.
Material: Natural materials including, bamboo, jute, wood, and grass.
Operation Options: Cordless and cordless top down/bottom up controls only for Standard colors
Considerations:
Stretching: The natural elasticity of yarns combined with the weight of the natural woven material may cause shades to stretch upwards to 1" to 1 1/2" after installation. This is particularly noticeable on inside mount shades or shades that extend from ceiling to floor. This is a natural occurring characteristic and is not considered a flaw.
Since woven wood shades are made of natural materials, it is important to keep in mind that these materials have unique variations in color, texture, and size. Colors may also change over time, as with any natural wood product; this adds to the natural beauty of the material and does not represent a defect.
Child Safety:
The cordless lift option on woven wood shades is considered safer for kids and pets. The cordless lift upgrade must be added to each window treatment during customization and purchase. All other versions of this product have cords that may be accessible and are not recommended for windows where children or pets may be present. Learn more about child safety and window treatments.
Measure and Install
Standard Specifications
Minimum Width: 12"
Maximum Width Standard: 72"
Maximum Width Deluxe Colors: 96"
Minimum Height: 24"
Maximum Height Standard: 72"
Maximum Height Deluxe Colors: 108"
Minimum Width (Cordless Top Down Bottom Up): 18"
Minimum Height (Cordless Top Down Bottom Up): 36"
Approximate Inside Mount Deduction: 3/8"
Mounting Requirements
Minimum Inside Mount Depth: 1"
Minimum Inside Mount Depth Fully Recessed: 2 1/2"
Minimum Outside Mounting Surface: 1 1/2"
Cordless Top Down Bottom Up
Minimum Inside Mount Depth: 2"
Minimum Inside Mount Depth Fully Recessed: 2 1/2"
Minimum Outside Mounting Surface: 2"
Available Upgrades (Deluxe colors only)
Edge Binding
Light Filtering Liner
Blackout Liner
Top Down Bottom Up